CITRINE KENNELS at Big Meadow Farm
Home of Citrine Golden Retrievers & Citrine Wirehaired Pointing Griffons
Lynn Tweedt-Rabinowe; Breeder/Owner Handler
Member GRCA/AWPGA/OHA; Licensed Boarding Facility
Offering puppies, stud service, boarding and training.
At Citrine Kennels, our breeding program is small and carefully managed to produce dogs of extraordinary quality.  The chief aim is to produce superior working and show prospect pups that are exceptional individuals in form and function, as measured <![if !vml]>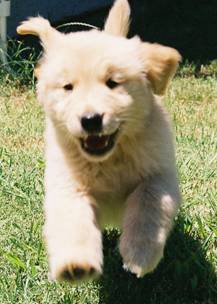 <![endif]>by the AKC standards for our chosen breeds; Golden Retrievers and Wirehaired Pointing Griffons.  Pups adhere to the key elements of breed type; that is, be primarily gun dogs and companions. 
This website is intended to give you a general introduction to Citrine Kennels, answer some of your questions, and encourage you to contact us for more detailed information.   We invite you to inquire further via telephone or e-mail.   Most often, people who get a Golden Retriever from us are looking for the perfect companion/pet puppy; they are not interested in going into the show ring.  That's perfectly fine with us!  Similarly, most people who look to us to produce their Wirehaired Pointing Griffon puppy are looking for a companion/hunting buddy.    
Interested in a puppy?  We plan one or two litters in the early part of each year and one or two litters in the latter.  When most people are looking, puppies are generally available or we can refer you to a friend or associate who has a nice litter, if our babies are already spoken-for.  Sometimes we have young adults, started dogs, or more mature dogs that are retiring from our show and working programs that we offer to selected homes.
We want you to be sure you are ready and will be happy with one of our pups/dogs.  There are many books and websites available to help you determine if you have the time and energy for a pup/dog in your life, and determine which breeds might be suitable for you, your family and your needs.  We can fine tune your thinking when we talk.  Making sure of your choice helps us ensure that our pups/dogs will have a wonderful home with you for their entire lifetime.
We can safely ship from PDX to major cities all over the USA, some Canadian cities, and selected other locations.  Airlines of choice have special travel programs for pets and companion animals.  For pups/dogs flying, we make all of the travel arrangements for you, simplifying the process.  We send pups/dogs in top quality sky-kennels, provide health certificates along with any other needed paperwork, and offer airport drop-off as part of the package.  We try to limit your transportation costs to the actual air cargo charges.  We can quote those for you. 
Read through and browse around our site, e-mail us or call for details and dates of upcoming litters.  If you're a west coast local -- from Oregon, Washington, or California – perhaps you can plan a drive to meet us at our country home?  Or, plan to connect with us at a dog show event near you!
GOLDENS
The Golden Retriever, the ultimate companion dog, is renowned as the family pet of choice.  Our six-plus generation line of Citrine-bred Golden Retrievers is recognizable by fanciers from coast-to-coast.  This particular bitch is one of the principle foundation dams in the Citrine line, Citrine's EZ'r Than It Looks.  Better known by her call name, Penny, this lovely girl was not carrying her normally luxurious coat at the time this photo was taken.   This is advantageous now, as the viewer can see her lovely <![if !vml]>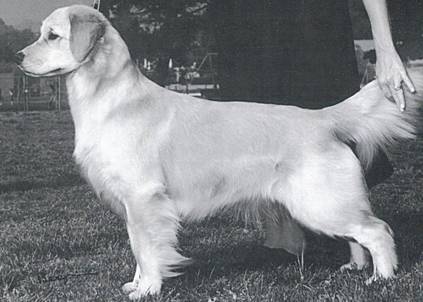 <![endif]>outline.   This "look" is one which we strive to keep, generation after generation. 
The foundation stock that formed the base from which Lynn T-R chose to work finds its genesis in lines such as Asterling, Honor, and Amberac – all principle to some of the best t1he nation's bloodlines have to offer. 
From these powerful roots, the Citrine "base" for producing top-notch, exquisite individuals springs.   Carefully chosen outcrosses, coupled with selected backcrosses, and linebreedings has produced a solid, predictable, sound line of great dogs.   Individual Citrine-bred Golden Retrievers selected for inclusion in the breeding program represent genetic powerhouses of reproductive capability.  The human families of pups that go home from Citrine as companions and working prospects reap the benefits of this thoughtful planning and selection.  Puppies grow-up to be absolutely beautiful.  
GRIFFONS
The Wirehaired Pointing Griffon, gun dog supreme, is a pointing breed.  Often clownish, these bristle-faced characters have a charm all their own.   Known as a close-working hunting companion, the Wirehaired Pointing Griffon excels as an upland <![if !vml]>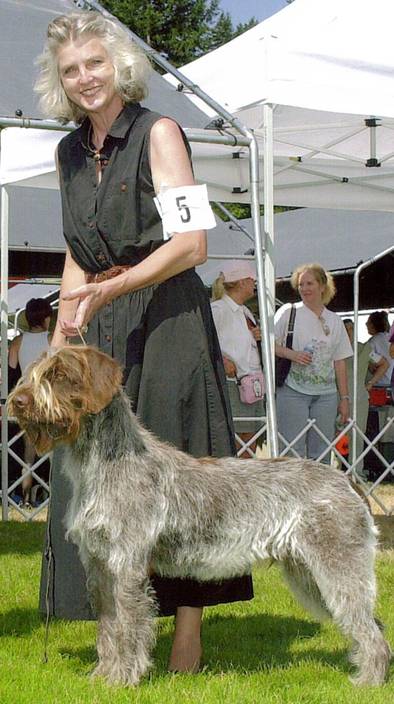 <![endif]>gamebird dog.  He's versatile enough for a variety of activities and makes a decent duck dog, too! 
In many breeds, there's a vast difference in "look" between the dogs in the field and the dogs in the conformation ring; a vast difference in their abilities, demeanor, and character, too!  That is not the case with the Wirehaired Pointing Griffon.   Responsible breeders of these dogs want to keep it that way.
Our Griffons hunt one day and show the next!  In fact, conformation judges learn in the national club's education forum that a dog with a collar-mark in the coat or furnishings suffering a tad from working in heavy brush and cover should not be held against an exhibit.   
Wirehaired Pointing Griffons do shed, although not in the overwhelming volume of some breeds.  The wiry coat is easy to maintain, keeping grooming chores minimal.
Ours are AKC-registered, purebred Wirehaired Pointing Griffons.  We're AWPGA members, and do not breed the crosses. 
We like to see a title at both ends of our dogs' names; a championship up front and a working/hunting title behind.  The championship indicates the dog or bitch is correct.  The working/hunting title indicates they can do the job they were intended to do.  This is a rarer breed.  Good ones are not easy to find. 
Interested in a Wirehaired Pointing Griffon?  We look forward to hearing from you.
PUPPIES
Feel free to call or email for detailed litter information.  To make things a little easier, here are the basics:
A deposit is required to get your name on our list or to reserve a puppy.
We have a very simple buy-sell agreement.  We understand that most people who choose a Citrine-bred puppy are looking for a healthy and beautiful companion, but they have no plans to enter the show ring.  For pets and working dogs that are not going to be shown or not destined to become part of a serious breeding program, we anticipate buyers will spay or neuter their puppy at the appropriate time.
You'll find in your search for a breeder that prices can vary considerably from kennel to kennel.  Often prices will vary by pedigree of the litters under consideration.  Sometimes prices will vary from puppy to puppy within a litter!
At Citrine, our aim in establishing prices for pups/dogs is to stay in the mid-range of the market pricing tiers. For Golden Retriever puppies, figure at least $1400 and for Wirehaired Pointing Griffons, at least $1200.  We welcome your inquiry for the most current information. 
It is not our policy to charge more for one gender or another.  So, we typically have the same price for boy as for girl pups. 
Serious show homes are given consideration and all arrangements are by private treaty. 
We provide a detailed information package to new puppy owners and are available to answer questions, offer tips and ideas, and work with you to make the addition of your new household member as smooth as possible. 
It is important to note that puppies should stay with their littermates until they are at least 8 weeks of age in order to get the most out of their sibling relationships.  So, we prefer that babies going home are between 8 weeks of age and  4 months of age.  During this time window, pups will have had one or two, possible three of their vaccinations; been started on heartworm preventative; and given other wormers as appropriate.  You'll receive a complete summary to give to your veterinarian when your pup/dog comes home. 
Beyond 4 months, we consider pups to be "started" youngsters.  Started pups will be well-socialized and off to a good beginning in their training.  They will have no trouble bonding with their new people!  Each will have had basic yard training, leash work, crate training, grooming and table experience, and the entire series of puppy vaccinations including the first rabies vaccination.  Each will have had experience with kids and families, will have been on "hikes" through the orchard and the hayfield, and have been swimming.  And each will have been in and out of the car on short trips to town.  Just so you know, there is an at-cost addition to the basic puppy price for a started youngster.
You may have other questions.  Contact us!  We are happy to reply to your inquiries.
[A special note to San Francisco Bay Area or Northern California people who thought we were local?  Yes, we were!!  For about 30 years.  See the information about Big Meadow Farm on this site.  It will help you understand why we moved.  You should know that many families who get puppies from us are from your locale and it is very simple to work out the getting-my-puppy-home logistics.  You are welcome to visit us!  Or, we can arrange to have your puppy travel home with the good folks at Alaska Airlines.  They do a fine job and it is so much faster than driving!  Call or e-mail us to discuss your concerns.  As a matter of fact, Lynn T-R travels your way to dog shows many times during a year or is frequently in the Bay Area on dog business of some kind or another.  And, if one of her trips coincides with your pup's coming home, she is happy bring your baby to you in the motorcoach.] 
STUD SERVICE
Golden Retrievers standing at stud at Citrine Kennels include:
Ch. Honor-Citrine's Easy As Pie (5 SDHF pts.)  "Baker" Pedigree & Photo
Ch. Citrine's EZ'r SedDanDun   "Remy" Pedigree & Photo
Ch. Citrine's No Whimps Allowed   "Bullet" Pedigree & Photo
Ch. Gold Rush Singapore Sling   "Raffles" Pedigree & Photo
Ch. Honor's Icon Sound Off   "Mike" Pedigree & Photo
The links will provide pedigree, photo, and clearance information for that dog.  We have limited quantities of frozen semen available from these wonderful champions and offer it by private treaty to serious breeders.  We work with ICSB near Portland and CLONE Northbay in Santa Rosa, California and your reproductive specialist or veterinarian.
Other Citrine dogs may be greater interest to you as stud dogs.  They may be better suited to your bitch; her pedigree and characteristics.   
Golden Retrievers:
Citrine's One Two Many (AKC pointed)   "Three" Pedigree & Photo
Essex Razzle Dazzle at Citrine   "Razzle" Pedigree & Photo
Wirehaired Pointing Griffons standing at stud at Citrine Kennels include:
Ch. Stonepoint's E.T. Iron, JH   "Ernie"
HEALTH FACTS
In general, we subscribe to the Codes of Ethics as published by our breed & handler clubs (GRCA/AWPGA/OHA) and we subscribe to the Code of Sportsmanship, as published by the AKC.
What does this mean to the puppy buyer?
It means we are honest, ethical, and fair in all of our business relationships and transactions.  From a practical standpoint, it means we get the health clearances on our breeding stock that are the called-for standard for our breeds: qualified practitioners' radiographs of hips and elbows are submitted to OFA for evaluations and consensus reports; reports are made to OFA on the results of a cardiologists' exams; reports are made to CERF/OFA on the results of ophthalmologists' exams, thyroid panels are processed; and similar.  The point of these efforts is that these data base groups make their records public, subject to scrutiny, and available for breeder researchers and puppy buyers.
This is all good.  But, we go beyond the basics in making choices regarding the health of dogs in our breeding program.  We screen for allergies and skin conditions, behavior or temperament problems, structural and balance faults, dentition and bite issues, and much more. 
Are there early onset cancers to be concerned about in Golden Retrievers?  Is there a cancer epidemic?  What foods should one avoid?  Are the guarantees that some breeders offer really worth a hill of beans?  How do I make the best choice for my family, my hunting buddy?
When a breeder makes the decision to pair two individual dogs to produce a litter, there is much at stake.  Your happiness and pleasure in your pet or hunting companion is very much a part of what is at risk.  The breeder's future is on-the-line, too.  A smart breeder is using their best judgment to conclude that the two dogs they are pairing will produce the best outcome, offer a pathway to a future of better constructed, healthier dogs for all. 
Our recommendation is that you choose a breeder wisely.  Choose someone with experience, pragmatic good sense, a value system that matches yours, who appreciates and understands your interest and needs.  You are choosing the person who is responsible for bringing your pup into the world. 
CONTACT INFO
Telephone numbers for Lynn Tweedt-Rabinowe
At home in the country   503-366-3565
On the road in the show van or motorcoach   925-518-5393
In the kennel grooming room and training center   925-946-1068
Click here to E-Mail Lynn T-R at Citrine!
BIG MEADOW FARM
In late 2003, Lynn T-R and her husband Ed Rabinowe, were lucky enough to find a fabulous country place that met their needs!  The Rabinowes had been on-the-scout for an out-of-the-city location for some time!  Having lived in the San Francisco Bay Area for nearly 30 <![if !vml]>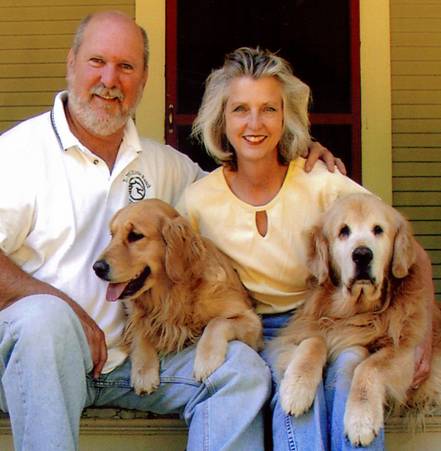 <![endif]>years, they were ready.  With kids out of college and finding themselves empty-nesters, the timing was perfect.   
They made the purchase, and relocated their lives and activities to Big Meadow Farm, a historic spot along the Columbia River near Deer Island, Oregon.  Big Meadow Farm is a sportsman's paradise with ample room for training dogs, keeping horses and livestock, rearing game birds, and enjoying life out-of-doors.  Set well-back off the main road, and snuggled between three working duckhunting clubs, the location is ideal.  Elk and deer abound, while beaver swim in the waterways.  Eagles, sandhill cranes, and geese soar overhead. 
[A word from the dogs:  "Living at Big Meadow has enriched our lives made us dogs very happy!  There's room to romp and play.  It is great fun to eat apples and pears in the orchard and to chase the chickens and ducks when the people aren't watching!  Plus, rolling in cow poop makes a grand perfume!  The neighbors don't care if you bark either … life is good!!"]
<![if !vml]>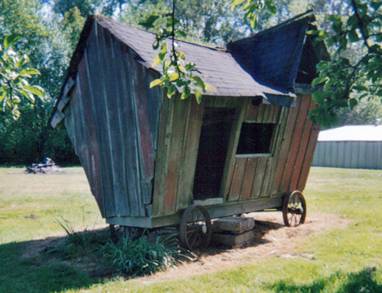 <![endif]>About 35 miles from Portland, Oregon, Big Meadow was named such by the Lewis & Clark explorers in the early 1800's.  Once the area was more settled, the plentiful grass and water offered grazing for livestock owned by herders who supplied the woolen mills. Big Meadow Farm boasts one of the early horse-drawn shepherd's wagons! 
After WWII, Roy & Sybil Wallace developed the entire locale into a Springer Spaniel training kennel and duck hunters' hideaway spot.  Incidentally, Roy Wallace was brother to Clifford Wallace, top field trial handler of Springers in the 1940's and 1950's. 
During their heyday, the Wallaces trained dogs and entertained the rich and famous, including avid sportsmen Bing Crosby and Andy Devine.  The kennel itself, which Roy Wallace built, is still in use today, and is home to Citrine Kennels. 
<![if !vml]>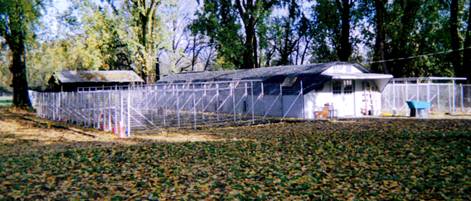 <![endif]>The 24-run kennel is spacious and comfortable with an attached grooming room and bathing facility.  The extra runs and space make it possible for the Rabinowes to offer Boarding for Dogs at Big Meadow Farm.  The entire property is well-laid out and includes rearing barns for game birds; pheasant, chukkar, quail and turkeys.
The Rabinowes make their home at Big Meadow Farm in a beautiful, century-old, four-square craftsman home that has been restored and updated to its original grandeur.  <![if !vml]>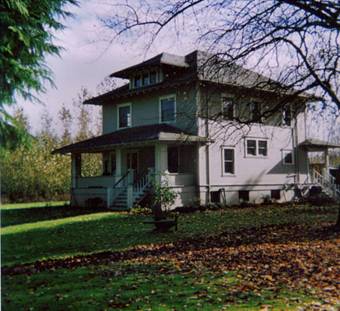 <![endif]>We're happy to have you as our guest and client.  Enjoy your stay.  We hope that you will choose a Citrine-bred puppy for your next pet, companion, show prospect, or hunting dog.       
A WORD ABOUT FADS
At Citrine Kennels, we are advocates for purebred dogs.  Our only registry is The American Kennel Club.  We support serious breeders' and pet owners' rights to own and keep dogs.  We oppose anti-dog and restrictive breed-specific legislation.  We strive to protect the rights of hunters and those involved in shooting/hunting sports.
We are not interested in the efforts of those who produce hybrids, doodle-this-and-thats, or such fads that come and go.  We believe that people who purposefully pair dogs to produce mongrels and mutts are in conflict with the best interests of purebred dogs, our breeds, our sports, and the public.
We are not interested in those whose efforts focus on color and "pretended" English lines or looks as their primary purpose in breeding dogs.  Substance, bone, and good head as a summation of a nice dog are part and parcel to what we produce.  We don't call it "English" in an effort to sell puppies.  There are true English and European pedigrees and we happen to know all the people who work with them and do good work with those bloodlines.  Most that advertise as "English" are fooling the public and are not what they present.   
We are not interested in over-sized or giant Goldens.  We are not interested in miniature Goldens.  We find any and all of these spur-lines off the main track of good dogs to be deeply troubling and very sad.        
In short, we deeply respect the traditions of the dog community and find it offers a source of much dignity in our lives.  We value the hard work of the many serious dog enthusiasts of the past who worked to develop and nurture the dog breeds that we enjoy today. 
It will be our legacy, hopefully, for the beautiful bloodlines from Citrine Kennels to be proudly included in the pedigrees of purebred, AKC registered dogs in generations to come.  
PHOTO ALBUM
From time to time, we'll post photos to this site.   We can e-mail other photos for you to view as well.  Just ask!
ABOUT LYNN T-R
Lynn Tweedt-Rabinowe founded Citrine Kennels in the 1980's as a Golden Retriever Show Kennel.  She chose to work primarily with Golden Retrievers.   Traveling the campaign routes to key AKC dog show events all over the country, Lynn T-R established a name for herself as a competitive, honest, and sportsmanlike exhibitor.  Competing in conformation with her Goldens, and several other breeds; observing the multitude of breeds in competition; studying judges as they completed their assignments; discussing various breeding and breedings with other handlers; Lynn T-R became familiar with many breeds, principles of breed type, and carefully honed her eye for a good dog.
As a natural progression, Lynn T-R established her Golden Retriever breeding program and chose the kennel name, Citrine.   Her first home-bred Champion (Ch. Honor-Citrine's Easy as Pie, 5 SDHF pts.); came from her initial litter.  After which, she quickly earned the GRCA Outstanding Dam title for her foundation bitch by campaigning and finishing the puppies from that bitch's early litters entirely on her own.  Sharing her knowledge, she has coached and aided others as a mentor and friend.  Many championships and titles have followed for Citrine-bred dogs.
The Wirehaired Pointing Griffon was added to the Citrine Kennel program in mid-2000 when Lynn T-R acquired a well-bred bitch in that breed who became Ch. Butte View's No Stout About It, JH.  Capitalizing on her experience, Lynn T-R was able to quickly establish a presence in Griffons, finishing and titling multiple dogs and bitches.
Lynn T-R is devoted to her work and her dogs, continuing to handle most of her entries in the show ring herself.  Always willing to help people "get started" in the sport of showing dogs, she is available for handling lessons, grooming clinics, and training sessions.
Call us!  503-366-3565
Or send an e-mail message!  E-mail Citrine!